4 Family-friendly Mountain Vacations Under $500
Sunday, May 4, 2014
Mirror Lake, Source: blanchardsprings.org
When warm weather rolls in, the first things I think of are getting outdoors, enjoying the sunshine, and going on a summer vacation. This year, I'm starting early, researching all the possibilities for an inexpensive family-friendly vacation and I'll share what I find with you.
I'll do a series of posts by type of vacation and give you costs. Of course this will vary by family depending on the number of people, your distance from the site, gas prices, equipment already owned, etc., but it will hopefully give you some ideas and an estimate of what it will cost to take your own inexpensive family vacation.
4 Family-friendly
Mountain
Vacations Under $500:
Next in line for inexpensive and fun family trips is to travel into the mountains; in this region, it's the Ozark or the Smoky Mountains. There are gorgeous views, hiking, swimming, boating, spelunking, exploring, fishing, zip-lining, & scuba diving, among other things. If we're going to a mountain location, we'll usually book a cabin or a hotel/motel close to our main planned activities. I'm focusing on
inexpensive and family-friendly
, so keep in mind that if you prefer a more upscale rental, or a Bed & Breakfast for couples, these are easily found with a Google search. :)
It's not all woods though. There are locations within cities that can offer shopping, aquarium visits, tours, & museums, so if it's raining, there are other activities to keep the kids busy. I'm giving you the sites I'm more familiar with, and all are in Tennessee, Arkansas, or North Carolina, so if you're in any of these states, the cost of gas will be pretty low too.
If you missed the last post, you can find it here:
8 Outdoors Family-friendly Vacations Under $400
Check out the next post:
New Orleans by Train: A Family-friendly Vacation Under $700
1. Spelunking in the Ozarks, Mountain View, AR:
Source: City of Mountain View, Arkansas website
Mountain View, AR
"Mountain View is located deep in the Ozarks surrounded by mountains and rivers offering boundless outdoor activities including Blanchard Springs Caverns and world class fly fishing. You can also explore the Ozark experience at the Ozark Folk Center or enjoy live music on the historic Court square or browse through our local shops filled with one of a kind crafts and unique gifts."
I think my mom found this place first for our family and we've been 3 times so far. There are festivals and rustic Ozark experiences galore here. You can stay in town in a motel, cabin, or B & B, or brave driving slim mountain roads to rent a "rustic" cabin. You can go antiquing, visit an elephant sanctuary, go horseback riding, trout fishing, or visit the village of Pickles Gap featuring a petting zoo, a duck pond, folk music, and antique shops. There are also places to camp, fish, & hike, but the reason we've come back 3 times is the amazing
Blanchard Springs Caverns
, which the kids are always amazed by.
Source: blanchardsprings.org
We've stayed at various places, but I think my favorite was
Pinewood Cabins
. It is in-town, walking distance from shopping, there is a grill as well as a full kitchen, den, bedroom, and full bath. The cabin that we stayed in before was a 2 bedroom and also had a hide-a-bed couch. We comfortably fit 6 people in it, but they also have 1 bedrooms that will comfortably sleep 4 people. There is also heat and air, cable, internet access, a pool and a playground, and some cabins have fireplaces or jacuzzi tubs.
I'm estimating for a 4-1/2 hour's drive in gas twice (there and back), food for cooking, and charcoal for grilling for 4 people for 3 days, 2 nights, a "small" cabin rental at Pinewood Cabins for 2 nights at $80/night, tickets for 2 adults ($10/ea.) and 2 children ($5/ea.) for the Dripstone or Discovery Tour at Blanchard Springs Caverns, and assuming you already own all other gear, coolers, etc.
Note: You will want to do much more than this, so estimate your own costs in for gift-shopping or other activities. We usually spend one day in the caverns, exploring the crystal-clear springs and rivers, and another day fishing. Actually mommy sends the kids out fishing with dad while she does...whatever she wants :)
CABIN & CAVERNS COST: $365
2. Scuba Diving in the Ozarks, Norfork Lake, AR:


Source: norforklakechamber.com
Mountain Home/Elizabeth, AR
North-Central Arkansas (Google Maps)
"Rising bluffs and forested hills surround the secluded beauty and crystal clear waters of this Ozark Mountain jewel. Norfork Lake, Arkansas' hidden treasure, is a short 10 minute drive from Mountain Home in north central Arkansas and extends just over the border into Southern Missouri."
About the lake: "Playing on top of the clear water of Norfork Lake is just half of the story. The real adventure is underneath the surface. Rated as one of the top scuba and skin diving locations in the country, Norfork Lake is well known for its water clarity...60 foot visibility dependent on the season.
Norfork Lake has the usual sites such as sunken boats and vehicles, but is also home to an assortment of unique underwater oddities...various foundations and structures from the time before the lake.
One famous underwater attraction is the old Henderson Bridge. This bridge was built just 10 years before the Norfork Dam was completed and the lake filled. It is now completely under water...Divers love to examine the massive concrete span, one of the largest underwater structures in America."
According to the
Norfolk Lake Chamber site
, there are over 29 different dive sites near the Hand Cove/Jordan Recreation areas, so I've picked two of the many resorts in the area that are affordable, seem nice, have family-friendly recreation options, are on the lake, with a cabin/cottage rental with kitchens/kitchenettes, and are a short drive or boat trip to the dive shops and sites in the area.
If you are not certified, both dive shops in the area offer certification, one with a course over a 3 day period. If you are not interested in diving, there are also boat rentals for fishing or cruising to spend the day on the beaches of Jordan Island or Sand Island and both resorts offer boat slip rentals, if you have your own. The resort people will know all of the local attractions and can help you plan your stay.
Mockingbird Bay Resort, 217 Sycamore Springs Cir, Mountain Home, AR 72653
(
Google Map
)
This place looks pretty cute and has "log cabin"-type rentals. It was built in the 50's and has been renovated and updated. They have a huge list of amenities including free WiFi, satellite TV, a swimming pool, game room, playground, picnic areas, a treehouse(!), coin-op laundry, boat rentals, fish cleaning station, & swim deck. Phew! Their rates are affordable at around $135/night for a family of 4 in a 1-bedroom cabin. If you want larger accommodations, they have a web special for certain dates.
Hand Cove Resort & RV Park, 8885 Hand Cove Road Elizabeth, AR 72531
(
Google Map
)
This resort in on Hand Cove and offers camping, RV sites, and cabin/cottage rentals. They are pet-friendly, have free WiFi, satellite TV, laundry facilities, a convenient store for guests, a bait & tackle shop, a fish cleaning station, a swim deck, and Hand Cove Park on the lake. $129/night for a family of 4 in a one-bedroom cabin.

I'm estimating for a 5 hour's drive in gas twice, food for cooking, and a cabin/cottage rental for 4 people for 3 days, 2 nights at $135/night, and assuming you already own all other gear, coolers, etc. I'm not including costs for a boat rental or scuba lessons because neither may apply to you, so add in these costs to the base to get your own estimate.
CABIN COST: $430
3. Hiking in the Smokies, Gatlinburg, TN: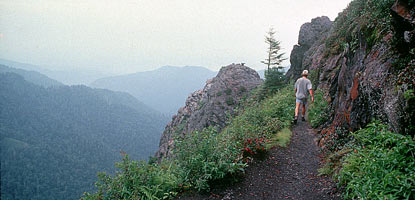 Source: nps.gov
G
atlinburg/Pigeon Forge/Seviereville, TN
Eastern Tennessee (Google Maps)
"You'll find that Sevier County is a magical place to visit. The county, made up of three cities – Sevierville, Pigeon Forge and Gatlinburg – features some of the best attractions, festivals and events you've ever experienced, along with the best lodging. You won't find mountain views anywhere else like these in the Great Smoky Mountains!"
I would usually give you a link to a Chamber of Commerce page, and I found one for the Smoky Mountains, but it hasn't been updated since 2009. I'm linking to a great vacation planning site called
Visit My Smokies
. It's pretty fabulous as it encompasses destinations in Gatlinburg, Pigeon Forge, and Sevierville, which together give you a ton of options for things to do and places to stay.
You can choose from motels all the way up to mountain chalets, visit the Dollywood amusement park, recreate the Titanic voyage complete with an actual passenger identity, take a tour by helicopter, see the Opry, visit the Wonder Works in an upside-down building, go racing, go to a water park, globe ride, go wildwater rafting, hike to amazing destinations, zip line, and on and on. This place is like Vegas if Vegas were
really
a family-friendly place. Like, the
whole place.
(When I decide to teach my kids how to gamble and strip, I know where to go. Looking at you, Vegas; Those ads aren't fooling anyone.)
My husband has been a few times, and loves to hike to the Chimneys, but I've only been once. We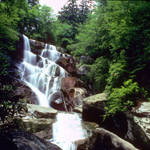 Source: nps.gov
stayed at a great cabin resort in Sevierville, and it was a short drive to destinations in all 3 cities. It was right between Christmas and New Year's, so no hiking for us, but we had fabulous mountain views, took the helicopter tour, puttered around the cities, and caught some gorgeous snowfall.
If you're wondering which hike to take, here is a page from
HikingInTheSmokeys.com
listing the hikes by area, with trail features, length, elevation gain, and difficulty rating. If you're staying in Gatlinburg, look for the hikes under that heading.
It took me forever, but I finally found the website of the resort we stayed in! Victory! We've stayed in so many places, I couldn't remember the name, but it was the
Country Pines Log Home Resort
, and their prices are comparable to other rentals in the area. Many of these mountain resorts have the same amenities, so if this resort doesn't have what you need, you can find somewhere close by for around the same rate. We actually loved this place. There were 2 bedrooms and 1 was a loft, so great for the kids. There was a full kitchen, fireplace, and a hot tub on the covered porch. One whole wall had 2-story windows and the view was gorgeous! The porch on that side had rocking chairs and a picnic table, too. Our cabin was the Lake Mohawk #11. Most of the dates for June/July are listed from $129-$149/night, so I'll go with $139 as a median rate for the costs. This will vary by your individual dates. You can find the rates by clicking "Check Availability" and hovering your pointer over the dates.
I'm estimating for a 6 hour's drive in gas twice, food for cooking, and a cabin/cottage rental for 4 people for 3 days, 2 nights at $139/night, and assuming you already own all other gear, coolers, etc. Hiking is free, but if you want to do other activities, you can research those costs and add them in.
3. Relaxing in the Smokies, Asheville, NC:
Source: ExploreAsheville.com


Asheville, NC
Western North Carolina (Google Maps)
From the Explore Asheville website: "Make plans to visit Asheville and find yourself immersed in our unmistakable mountain vibe. We've become well known for our culinary cool, our burgeoning beer scene and our thriving artistic community. Add to that miles of panoramic vistas and you have a recipe for an unforgettable escape from the daily grind."
We went to Asheville for a wedding and stayed at a Comfort Inn in the downtown area. We had a great time driving through the mountains, walking around downtown, visiting cool shops, catching lunch at a Soda Fountain, and trying out gourmet ice cream. There is no shortage of things to do here, and with a little planning, you can catch live music, beer festivals, spas, haunted city tours, ride the pubcycle, and book a fancy Biltmore Estate dining experience. Check out the Things To Do tab and have some fun!
Source: ExploreAsheville.com
I'm estimating for a 6-1/2 hour's drive in gas twice and a lower-mid-priced hotel room (not motel 8, but not a B&B) for 4 people for 3 days, 2 nights at $108/night, that includes a complimentary breakfast. I'm not including groceries as you won't be able to cook, so add in the average cost of meals for your family size for lunches and dinners. Exploring is free, but if you want to do other activities, you can research those costs and add them in.
HOTEL COST: $346
I hope this list helps you plan your own inexpensive mountain adventure. If you have any family-favorite spots, let me know in the comments and maybe I'll start planning another trip! Thanks for reading.
See the last post:
8 Outdoors Family-friendly Vacations Under $400
See the next post:
New Orleans by Train: A Family-friendly Vacation Under $700