Touchdown Trouble: A Printable Big Game Day Kids' Game!
Monday, January 30, 2017
This shop has been compensated by Collective Bias, Inc. and its advertiser. All opinions are mine alone. #GameDayGoldfish #CollectiveBias

Are you prepping for a Big Game party? You might be thinking of a delicious spread for your guests, but what about the kids? I've got a great idea for a kids' table to help keep them occupied and happy while everyone enjoys the game. All you need is a space, snacks, drinks, and the printable game board I created that uses their favorite snacks as game pieces. Fun, right?


While your adult guests might have a great time watching the Big Game, there may be some smaller guests that just aren't that into it. Since throwing a party is all about giving your guests an enjoyable experience, we need some fallback ideas to show the kids that a Big Game party can be fun for them even if they don't want to watch the game!
Plus, the parents will be happy knowing they can enjoy watching the game and the kids are occupied, happy, and well-fed.
They're The Snack That Smiles Back®, baked (not fried) with real cheese. They taste great and you can feel good about serving them. Plus, Goldfish® crackers are 10% off at Target through the Cartwheel app, so saving money + giving the kids wholesome snacks = WIN.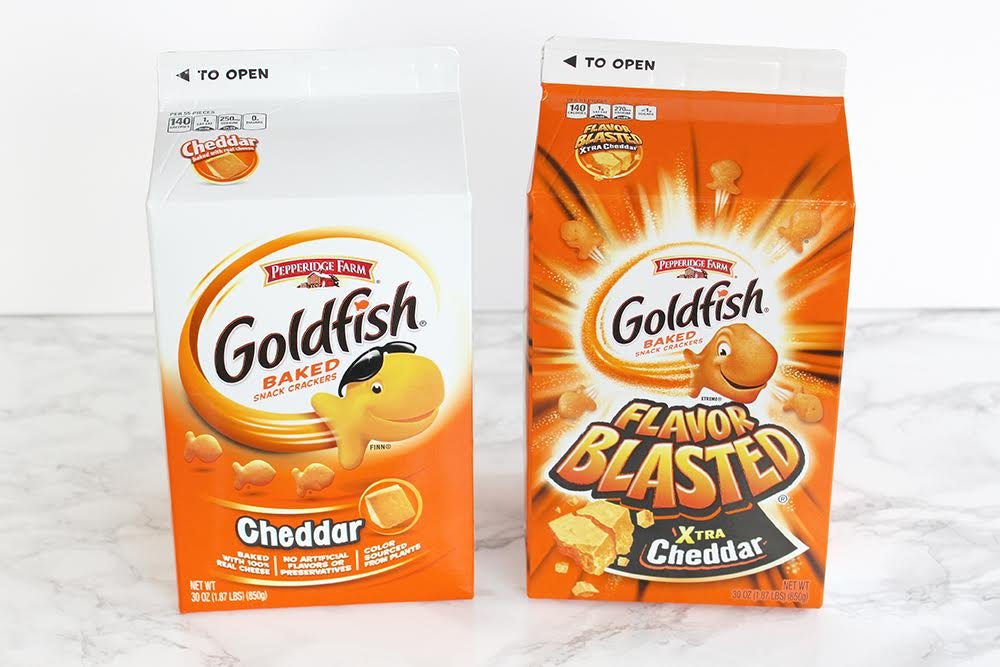 There are so many varieties that you'll have a hard time choosing, but for party situations, I grab the
Goldfish
Cheddar 30 oz. Carton & the Xtra Cheddar
Flavor Blasted Goldfish
30 oz. Carton because, seriously, how many adults do
you
know that can pass up
Goldfish
crackers? Everyone's going to want at least a handful and cheddar is a universal favorite. There is also a Bulk
Goldfish
Mix Xtra Cheddar/Pretzel 34 oz. Carton if you really want to go wild. ;)
You can get them at Target in the snack cracker aisle of the Market section. Visit
this link
to find out more about
Goldfish
crackers + their video contest.
Maybe you can supply one of the older kids with a smartphone at the party and you'll have a winning video entry on your hands! $5,000 can buy a lot of party snacks...
Speaking of, setting up your kids' snack area is a breeze. If you have a kitchen counter space or a card table, you can make an out-of-the-way area just for them.
You'll need drinks, so you can prep a pitcher of lemonade or other fruit juice, or put individual juice boxes in a bin of ice, depending on how many little guests you're expecting.
The game I created is called Touchdown Trouble and is played with 2 players, so you may want to print multiples if more children will be playing all at once. The object of the game is for each player to travel through the maze, gaining rewards, losing ground, and taking physical actions, through to the opposite side to claim their Big Game trophy!
Align the two pages so they match up...
And join them together with some clear tape.
You can trim down the white edges along the outside of the board if you like. Easy-peasy.
Now you have a fun game that can be played over and over, just add one die per board and set the boards out in your kids' area.
The game directions are printed on the board, so everyone can learn how to play and get started right away.
Your Goldfish crackers will be your players, so you're all set for fun.
Don't forget to scan the barcode with your Cartwheel app and get a 10% off discount on your
Goldfish
crackers at Target.
PIN ME:
Are you throwing a Big Game party? How do you keep younger guests entertained? I love to hear your comments!